Early last month, I decided to make the move and finally run my site under a secure certificate. This something I've been meaning to do over the last year as it became apparent that Google will soon penalise your search rankings if an SSL is not installed. Quite a few of the developer blogs I follow have already made the transition, so I thought I too should do the same. I was surprised how cheap it was to move to HTTPS. For myself, I pay around £25 a year that consists of a basic Comodo SSL certificate and a dedicated IP. This is purely because my website is hosted on a shared hosting provider. It'll probably be even more cheaper for those who manage their own hosting.
I highly recommend anyone who still has qualms on making the move to https to read the following post by Scott Helme: Still think you don't need HTTPS?. He brings up some very interesting points and benefits that motivated me to make the move.
The transition to making the move to HTTPS was painless and required no major downtime. But I did have to spend time in ensuring all external requests from my site were secure, for example Disqus, Google Ads and some external JS references. However, something a little more pressing caught my eye and got quite a fright when I logged into Google Webmaster Tools yesterday. Unbeknown to me, ever since my site changed to HTTPS, both my clicks and CTR statistics declined drastically over the month. Take a look at the blue and yellow lines:

At least this decline has not been reflected in my Google Analytics report. The number of visitors to my site has remained stable and have even noticed a slight increase - I don't think the increase has anything to do with the SSL certificate. So what caused the rapid decline in Webmaster Tools? It seems like I missed something in my haste. I needed to in fact create a new website inside Webmaster Tools that contained my website URL prefixed with "https://". This is because a "http://www.surinderbhomra.com" is considered a different URL to "https://www.surinderbhomra.com". Makes sense when I think about it. I wrongly presumed that as long as I have the correct 301 redirects in place so all pages on my site is served over HTTPS, there won't be an issue.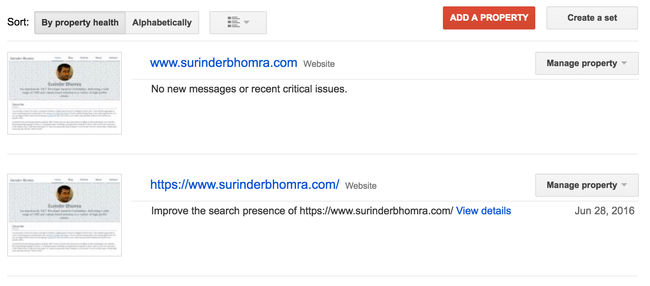 John Mueller wrote a FAQ post on Google+ that covers most of the important things you need to know and how to setup Webmaster Tools correctly on change to HTTPS: https://plus.google.com/+JohnMueller/posts/PY1xCWbeDVC.
I won't lie to you, seeing that green padlock in the web address bar whenever I visit my site gives me a new found sense of euphoria!