Google Analytics and Adsense Android App Alternatives
Being a Web Developer and owning my own website, I'm quite interested in seeing how my site is doing when I am not in the vicinity of my computer – mainly analytics and advertising revenue. Even though Google Analytics and Adsense provides me with really good information, I was interested in seeing if there were any alternatives in app form on Android.
To my surprise there were no official app alternatives for AdSense or Analytics. Thankfully, there are a few unofficial app's currently available to download free on the Android Market. Here are (in my opinion) the best ones:
gAnalytics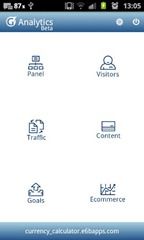 gAnalytics provides all the necessary types of stats you would require. Even though currently in beta, this hasn't restricted the app in anyway and I haven't experienced a single issue whilst using it. You have access to the following type of reporting (not a complete list):
Visitor stats –  pageviews, average time on site, bounce rate and new visitors.
Demographics – language, country and city.
System stats – browser, operating system, screen resolution and service provider.
Referral/Direct traffic.
Search Engine traffic – keyword and search query.
Content stats – page, search term and exit pages.
If that wasn't enough, gAnalytics lets you retrieve statistics from a given date period.
To summarise, gAnalytics is a perfectly comprehensive and a brilliant all round app.
AdSense Dashboard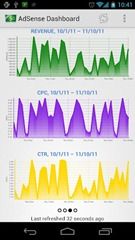 I would say the AdSense offering in terms of reporting isn't as comprehensive as gAnalytics. What AdSense Dashboard does do well is providing you with a heads-up view on all AdSense metrics, such as:
CPM
CTR
Page views
Clicks
Estimated revenue
Unfortunately, you don't get an option to view AdSense metrics over a specific date period. Only today, this month and year to date.
AdSense Dashboard is a simple app giving you top-level on stats and revenue information over four different screens.
Before you go...
If you've found this post helpful, you can buy me a coffee. It's certainly not necessary but much appreciated!

Leave A Comment
If you have any questions or suggestions, feel free to leave a comment. I do get inundated with messages regarding my posts via LinkedIn and leaving a comment below is a better place to have an open discussion. Your comment will not only help others, but also myself.