I've owned my UniFi Dream Machine router router for a little over two years, and I'm still getting accustomed to the wide array of configuration options available in the device admin settings. My usual rule of thumb is to only fiddle with the settings if absolutely necessary.
Today was the day when I needed to change one setting on my router so that my download and upload speeds were not limited. Embarrassingly, I've been criticising Virgin Media, my internet service provider (ISP), for not keeping their half of the bargain in supplying me with appropriate broadband speed as promised, only to discover that it was all along my Dream Machine. Very unexpected.
In the UniFi Network settings, look out for an option called "Smart Queues" where the download and upload speeds limits can be increased or disabled in its entirety.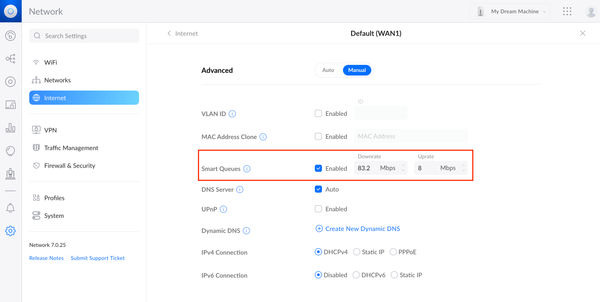 What is "Smart Queues" and why would we need it? "Smart Queues" helps decongest networks with lots of clients and constant load. When enabled it will reduce the maximum throughput in order to minimise latency over the network when the connection is at full capacity. Low latency is important for voice/video calls and fast-paced online multiplayer gaming. The following StackOverflow post adds further clarity on the subject:
Most routers and modems have a design flaw called "bufferbloat"; when your Internet connection gets fully loaded (congested), they mismanage their queues of packets waiting to be sent, and let the queue grow out of control, which just adds latency with no benefit. SQM is the fix for bufferbloat.
SQM is only tangentially related to QoS. Traditional QoS schemes prioritize some kinds of traffic over others, so when there is congestion, the lower-priority traffic gets slammed with congestion-related latency, and the high-priority traffic hopefully skates by without problems. In contrast, SQM tries to keep the latency low on all traffic even in the face of congestion, without prioritizing one kind of traffic over another.
I made a decision to disable "Smart Queues" as there isn't enough network traffic used in my household to warrant any form of QoS consideration. This setting can be found by logging into the router Network section > Settings > Internet > WAN Networks > Advanced.
Once disabled, the difference in internet speed is like night and day.
Before:
After: