UniFi: Restrict Network Device Access On A Guest Network
On my UniFi Dream Machine, I have set up a guest wireless network for those who come to my house and need to use the Internet. I've done this across all routers I've ever purchased, as I prefer to use the main non-guest wireless access point (WAP) just for me as I have a very secure password that I rather not share with anyone.
It only occurred to me a few days ago that my reason for having a guest WAP is flawed. After all, the only difference between the personal and guest WAP's is a throw-away password I change regularly. There is no beneficial security in that. It is time to make good use of UniFi's Guest Control settings and prevent access to internal network devices. I have a very simple network setup and the only two network devices I want to block access to is my Synology NAS and IP Security Camera.
UniFi's Guest Control settings do a lot of the grunt work out the box and is pretty effortless to set up. Within the UniFi controller (based on my own UniFi Dream Machine), the following options are available to you:
Guest Network: Create a new wireless network with its own SSID and password.
Guest User Group: Set download/upload bandwidth limitations that can be attached to the Guest Network.
Guest Portal: A custom interface can be created where a guest will be served a webpage to enter a password to access the wireless network - much like what you'd experience when using the internet at an airport or hotel. UniFi gives you enough creative control to make the portal interface look very professional. You  can expire the connection by a set number of hours.
Guest Control: Limit access to devices within the local network via IP address.
I don't see the need to enable all guest features the UniFi controller offers and the only two that are of interest to me is setting up a guest network and restricting access (options 1 and 4). This is a straight-forward process that will only take a few minutes.
Guest Network
A new wireless network will need to be created and be marked as a guest network. To do this, we need to set the following:
Name/SSID: MyGuestNetwork
Enable this wireless network: Yes
Security: WPA Personal. Add a password
Guest Policy: Yes
All other Advanced Options can be left as they are.

Guest Control
To make devices unavailable over your newly create guest network, you can simply add IPV4 hostname or subnet within the "Post Authorisation Restrictions" section. I've added the IP to my Synology NAS - 172.16.1.101.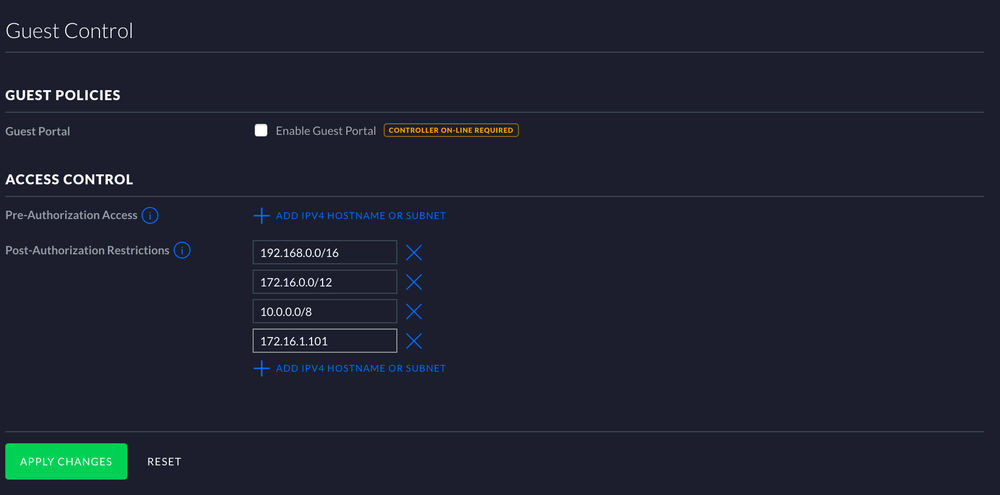 If all has gone to plan when connecting to the guest WAP you will not be able to access any network connected devices.
Before you go...
If you've found this post helpful, you can buy me a coffee. It's certainly not necessary but much appreciated!

Leave A Comment
If you have any questions or suggestions, feel free to leave a comment. I do get inundated with messages regarding my posts via LinkedIn and leaving a comment below is a better place to have an open discussion. Your comment will not only help others, but also myself.