On Saturday 6th August 2011, I was waiting impatiently for my new phone to be delivered. It's not just any phone. It's the phone that will technologically enhance my productivity and will define what an Android operating system really has to offer in a small, slim and neat package. It was the Samsung Galaxy S2!
I had been looking for a new phone for quite sometime to replace my "slow-mo" HTC Hero and the Samsung Galaxy S2 seemed to fit my requirements exactly. One of the things that attracted me to buying this phone was the fact that compared to other phones on the market, the Samsung was a performance powerhouse packing in a dual core processor and a lot of RAM that will future-proof my purchase for some years to come. So spending around £400 didn't phase me.
During this time, there was talk on the internet on how the 2012 release of Android 4.0 will not just be another Android release, it will be a release to remember. We all know Android has been fraught with fragmentation issues throughout its life due to phone manufacturer's adding their own customisations thus adding further complexity in future Android upgrades. By starting over in a major new release, consumers will see more similarities between low and high spec handsets.
Knowing I have a high-spec handset I was sure I will be getting Android 4.0.
How wrong could I be…
I was really annoyed to hear just before Christmas that Samsung will not be releasing Android 4.0 to its original Galaxy S phones and tabs. Even though Samsung Nexus S has similar hardware specification to my Samsung Galaxy S2, there is not enough memory available on the device to install Ice Cream Sandwich along with TouchWiz. Who actually wants TouchWiz? It's an ugly interface. Android is a perfectly acceptable out-of-the-box. Long gone are the days when Android was a bit of an eyesore.
The problem with Android is that its allows too much freedom allowing hardware manufacturers to do what they want. Having all this freedom in the initial stages is great, but there are bound to be complications as future upgrade will require a lot of time and money to get right. No hardware manufacturer would want to do that.
So when will phone manufacturer's STOP bastardising Android with their own customisations? No good can come of it. This is what really peeves me off about being an Android user. Its phone manufacturer's like Samsung that are playing with customer loyalty. I think Samsung is not realising their business incentive to do these updates.
Up until now, I've been a happy Android user and was proud to be different to the iPhone drones that surrounded me. Now I'm uncertain. Just as uncertain (I believe) the future of Android. I really like my Samsung Galaxy and it does everything I require. I can even make phone calls! But it's a real kick in the teeth knowing I spent so much on a phone that is not upgradeable especially when its less than 2 years old.
Google should really take more of an initiative. The following come to mind:
Lock down Android to stop unnecessary modifications.
Google take the Apple route and manufacture their own hardware.
Make the latest OS available online for consumers to download and install on their phone.
Allow manufacturer's to make modifications through a separate driver layer. So consumer can ditch manufacturer customisations with ease.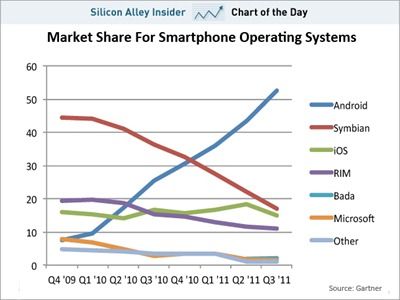 According to Gartner, Android has now taken over 52.5% of the global smartphone market and stealing share from smartphone operating systems such as Symbian and Blackberry. With this in mind Google and its handset makers should be rewarding its customers and not penalising them. As John Gruber (http://daringfireball.net/) states in one of his posts:
"Why bother with software updates? We've got their money. Let them buy a new device if they want the latest software."
I am afraid to say that this is the mentality of some Android handset makers where customer satisfaction is a low priority. I hate to say this is where Apple wins. They clearly have more respect for its customers and the longevity of their products.
I wonder what 2012 will have in store for Android. No doubt the Android market momentum will continue to rise at the cost of consumers. I will definitely think twice before purchasing another Android handset.