Evernote Has Made Me An Extreme Data Hoarder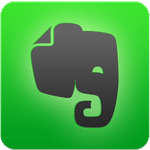 Ok. So for those of you have not heard of Evernote (and who hasn't!?), it's an online app/service that allows you to record voice, text and hand written notes that can synchronise across multiple devices and platforms.
Ever since I had my first smartphone, I've always relied on Evernote to record my daily thoughts and reminders. There are numerous note taking apps on the market, which (for me) just doesn't seem to cut the mustard and end up always coming back.
Evernote not only has the functionality, but it also has the infrastructure to make it more than just a "note taking" platform. So much so I'm hoarding major amounts of everyday things. Evernote is starting to act as a repository of things I don't want to let go of.
With the help of IFTTT, I have created numerous recipes that aggregate data from my social platforms such as Instagram and Twitter to importing RSS feeds from websites that interest me. Now Evernote is my one-stop-shop for getting everything I need on a daily basis instead of logging into different platforms individually.
If there is something I happen to like, I just Evernote it. Even if I won't ever need it. Typical sign of a hoarder! But I'm an organised data hoarder, utilising clearly named notebook stacks. Strangely enough, the more notes you add, the more useful Evernote becomes and this maybe the reason why I am hoarding so many things. It's more than a "note taker"!
One feature I didn't expect to be so useful was the ability to take pictures of printed or handwritten documents. I can take quick snapshots and go completely paperless. On top of that, Evernote makes everything searchable. It's even clever enough to search through my rubbishly written notes. I only found out how truly powerful this feature until I was going through the motions of purchasing my first property. At this time of my life, I was in constant note/documentation mode and Evernote helped me organise my thoughts, reminders and record all email correpondence neatly.
What I've done in the past with other note taking apps is delete old notes or files just to be completely sure that I will be able to search what I require quickly and easily, mainly due to the fact that sifting through large volumes of data was a headache! Nowadays, I don't delete anything in Evernote. I can now keep a record of things I previously done and refer to later without any worries at time of need.
It's safe to say my addiction to Evernote will only increase as I find more uses for it. But that's not a bad thing...right?
Update - 12/12/2014
I came across some posts from others with the same issue, which is nice to know that it's not only me with a problem:
Before you go...
If you've found this post helpful, you can buy me a coffee. It's certainly not necessary but much appreciated!

Leave A Comment
If you have any questions or suggestions, feel free to leave a comment. I do get inundated with messages regarding my posts via LinkedIn and leaving a comment below is a better place to have an open discussion. Your comment will not only help others, but also myself.