I've been playing around with creating multilingual sites in Kentico (version 5.5R2). One of (the many) Kentico strengths is being able to configure an existing site installation to cater for multi-lingual support in a straight-forward manner.
I came across a perplexing problem when trying to view both of my multilingual sites within the same browser. In my development environment I created two domain aliases and sites in IIS:
Danish – http://172.16.1.28:8010
British – http://172.16.1.28:8011
As you can see, I differentiate between two of my site cultures by the port number.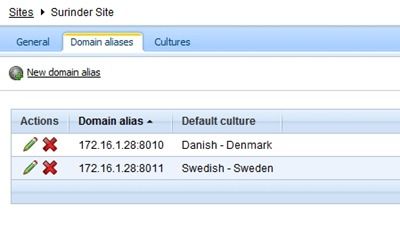 I could only view one version of the site on both URL's. This was all due to a cookie that gets created on first site visit and stores the "CMSPreferredCulture" based on the domain name excluding the port number. For those who aren't aware, "CMSPreferredCulture" simply contains a localisation code for the site. You might be thinking: What's the big deal?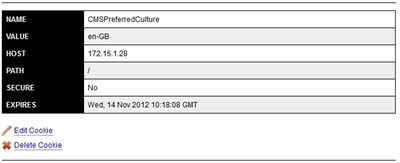 Well an issue only occurs when you are developing and testing the multi-lingual setup within a local environment and don't have access to a range of unique domains. I thought that I could use the different port numbers in my environment to distinguish between the different site cultures.
I was wrong. Kentico only uses the domain name and excludes any port  numbers. If you need to view different culture versions of your site at the same time, you will need to view them in different browsers.
A small thing like this can cause some bewilderment for a Kentico novice. It sure bewildered me. You would expect to have the ability to view different versions of a site based on the domain aliases setup in Kentico.
If anyone can suggest a work-around. Please leave a comment.