It'll soon be coming up to a year working from home full-time due to the pandemic and I thought I'd write a post about my current setup as it has evolved over the months. Starting from a bare empty room with just a desk and chair has now become a fitting place to ensure maximum productivity and comfort.
I believe investing in a good home office setup is what can make working from home that little bit easier. Not everyone will be fortunate enough to have a single room dedicated to an office space, or afford all the niceties you've see other bloggers write about or showcased on Instagram.
The most important part of any office is investing in a good desk and chair. Everything else is secondary. I can't stress how important this is. Working on something like a dining table can get uncomfortable very easily and this can be a big distraction in itself. Start small with the basic's and overtime work your way up and make improvements when you can. This is the approach I've taken.
In general, working from home over long periods can be a real chore and a good setup will help you stay healthier and focussed whilst working. Interesting enough, The Atlantic wrote an article detailing why so many people are now experiencing medical problems after making the switch to working from home. A combination of long working hours, fewer breaks, stress and isolation is creating a negative impact on all of us.
Desk
I'm quite particular about desks and prefer ones that are a little industrial looking and made from real material. None of that MDF or veneered manufactured stuff. I went for a desk made from Indian reclaimed mango wood, constructed on a sturdy metal steel frame. It certainly adds a bit of character to the office.
I've been told I should have opted for a standup desk for further health benefits, but I'm doing just fine as both my desk and chair are at the right height suitable for my posture.
Chair
I went for an Ikea Alefjall office chair that provides great support in a relatively small form factor. The seat and backrest are height adjustable. You also get support for your thighs and back through its depth adjustment along with tilt capability.
Monitor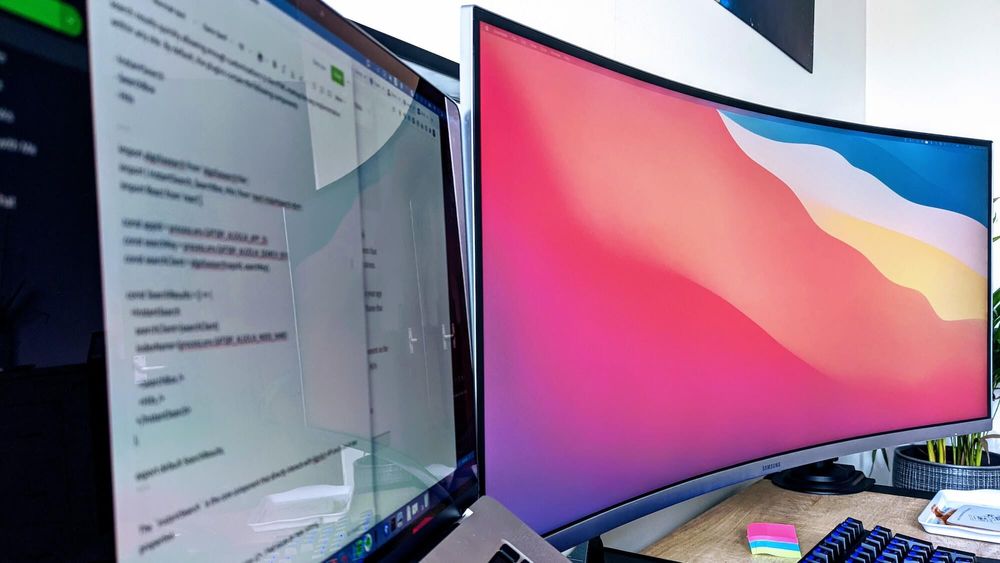 I managed to snap a real bargain on an ultra-wide curved monitor from last years Amazon Black Friday deal and now a proud owner of a Samsung 34 inch ultra-wide beauty! This is a major upgrade over my Dell Ultrasharp, which by no means is a bad monitor, but just felt I needed more screen real-estate.
Being Thunderbolt-compatible is a bonus as my MacBook Pro can charge and transmit data simultaneously over a single cable. Makes cable management that little bit easier.
Mouse
I have a Logitech MX Master and it's the most comfortable mouse I've ever used. Fits very comfortably in the palm of your hand and is very customisable. I don't generally like wireless mice as they can be fiddly to connect and I always question the usage time in between charges.
This mouse works for weeks and that's with me leaving it switched on all the time. When it comes to charging, just connect the cable and carry on using it.
Keyboard
I've been a big fan of mechanical keyboards and prefer them over Apple's over-priced ones. You just can't beat the nice responsive "clickity-clack from every keypress. I'm still using the Ducky DK9008 Shine 2 my Dad got me in 2013. It's still going strong unlike the many Apple keyboards that have failed previously.
Just be careful whilst using it when on a Zoom call. You will notice how noisy it can come across. The amount of noise emitted by a mechanical keyboard depends on the type of switches used. You can get some really good mechanical keyboards across a variety of price points. If I didn't already have one, I'd choose one from the range offered by Keychron.
Speaker
I have a Google Home Max smart speaker that packs a real punch sat in the corner of the room. Even though the speaker itself isn't in close proximity to where my desk is, I can summon commands without having to raise my voice.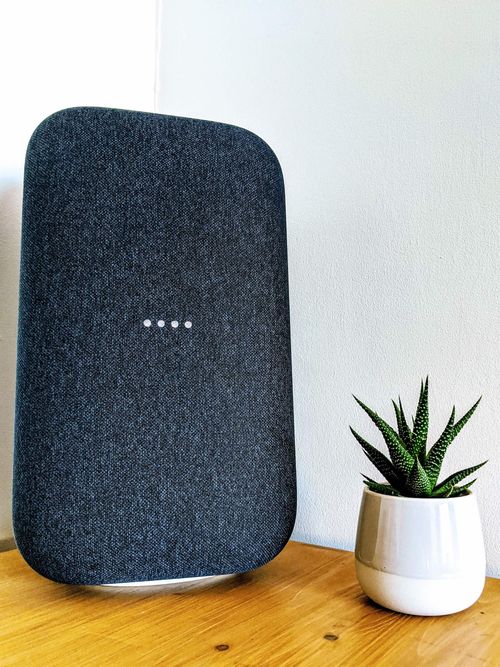 Plants
An office space can quite quickly look very sterile and I like a little bit of greenery, which is thought to improve productivity and relieve stress. I'm not sure if that's true. All I know it makes my working space that little bit nicer to be in. The plants I went for are very low maintenance and consist of:
Sansevieria: Known as "The Mother in Law's tongue" due it's sharp upright leaves. It emits oxygen and filters toxins from the air.
Succulents: Really cheap and small enough to fit into any space.
Orchid: Not so low maintenance. Looks very cool when alive though! Mine is currently making its way back from the dead.
What's Next?
I think I'm done for the moment. It'll be nice to get some LED strips to fix to my desk and behind my monitor for subtle accent lighting.
Before you go...
If you've found this post helpful, you can buy me a coffee. It's certainly not necessary but much appreciated!

Leave A Comment
If you have any questions or suggestions, feel free to leave a comment. I do get inundated with messages regarding my posts via LinkedIn and leaving a comment below is a better place to have an open discussion. Your comment will not only help others, but also myself.