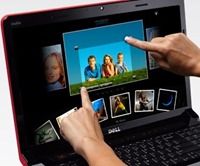 I had the opportunity to try out one of my friends new gadget purchases (someone's been a good boy this year!) - the Asus Transformer Infinity. I read a lot about the Asus Transformer range ever since its first release in 2011, but got the impression that this was just another worthless mishmash of tech with a mistaken identity. I never understood why anyone would buy a touchscreen tablet that had a keyboard. That just defeats the whole point of having a tablet device does it not? How wrong was I...
The combination of a keyboard and touchscreen just works and feels perfectly natural. I always had the misconception that a mouse is needed to accurately communicate with an OS user interface. The more I used the Asus Transformer, the more I wished I had one and oddly when returning back to my Alienware m11x I felt something missing. In my eyes, the good ol' touchpad just seemed inadequate. In all honest, the Asus Transformer touchpad is just as inadequate and a little flaky (possibility due to lack of support by Android). They should have left that out.
With the advent of next generation on laptop/touchscreen hybrids such as the Microsoft Surface and Lenovo Yoga (which has an awesome ad), maybe there is method in this concept after all and I look forward to using future variations.
For the moment, all I know for sure is I want a Asus Transformer Infinity!