Change SharePoint 2007 My Site URL
A little while back I renamed all URL's within my SharePoint 2007 virtual environment. You can view my posting here. When it came to viewing users My Site, the new URL did not update after making changes to the Alternate Access Mappings within Central Administration.
So if you have the same problem or if you just need to change your My Site URL, here is a tutorial on how to fix this problem:
Go to "Alternate Access Mappings" in SharePoint Central Administration > Operations. Click on the URL that corresponds to your My Site. This will take to you to the "Edit Internal URLs" page, allowing you to modify the My Site URL.


Go to "My Site Settings" which can be found in the Shared Service you configured in Shared Services Administration. Again, enter your new My Site URL.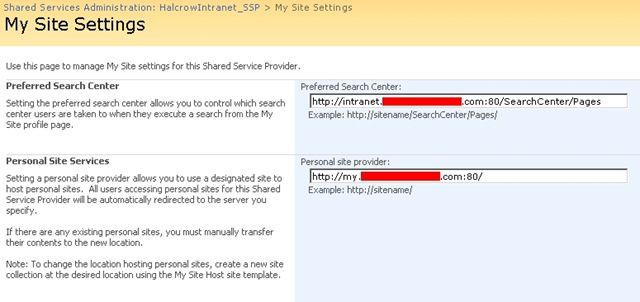 Modify your IIS site host header value to match the URL your entered in Central Administration.

Carry out an iisreset.
Before you go...
If you've found this post helpful, you can buy me a coffee. It's certainly not necessary but much appreciated!

Leave A Comment
If you have any questions or suggestions, feel free to leave a comment. I do get inundated with messages regarding my posts via LinkedIn and leaving a comment below is a better place to have an open discussion. Your comment will not only help others, but also myself.