Google Needn't Worry About Facebook's Advertising
Today I came across this really interesting tweet on my Twitter timeline today:
Read about why we're deleting our Facebook page: facebook.com/limitedpressin… — Limited Run (@limitedrun) July 30, 2012
Limited Run, posted on their Facebook profile stating that they would be deleting their account due to the amount Facebook is charging for clicks on their advertising. Here's the interesting part: About 80% of the clicks Facebook charged Limited Run, JavaScript wasn't on. And if the person clicking the ad doesn't have JavaScript, it's very difficult for an analytics service to verify the click. Only 1-2% of people going to their site have JavaScript disabled, not 80% like the clicks coming from Facebook.
Interesting stuff.
Before Limited Run takes down their Facebook profile, I've attached a screenshot of their post below: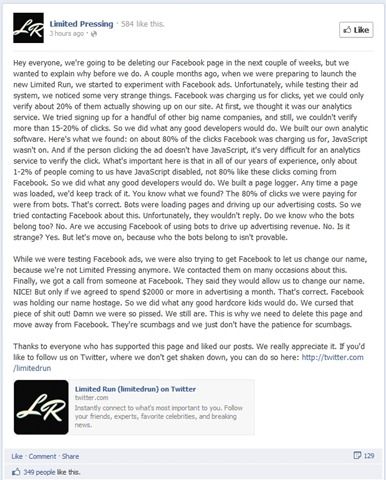 Reading this post today reminded me on a news article I read on "virtual likes" and how advertising through Facebook doesn't necessarily mean you'll be any better off. It all comes down to the level of engagement user's have with a profile page. If users are just liking the page and not interacting with your posts or general content, those likes are worth nothing. Some companies are wising up to the effectiveness of Facebook's advertising strategy.
Limited Run isn't the first to ditch Facebook ad's, General Motor's pulled away from Facebook ad's earlier this year due to the ad's Facebook produce do not have the visual impact needed to justify the cost.
I think certain aspects of Facebook is a joke filled mostly of people looking for attention, not an effective marketing tool.
Before you go...
If you've found this post helpful, you can buy me a coffee. It's certainly not necessary but much appreciated!

Leave A Comment
If you have any questions or suggestions, feel free to leave a comment. I do get inundated with messages regarding my posts via LinkedIn and leaving a comment below is a better place to have an open discussion. Your comment will not only help others, but also myself.